Craig Belitz Construction is a full service general contractor with 26 years experience. Craig Belitz Construction is located in Knoxville, TN. yet the Company has completed projects in Florida, Alabama, South Carolina, Virginia, Kentucky and North Carolina.

Craig Belitz Construction is proficient in all aspects of Industrial, Commercial and Residential construction, including but not limited to: manufacturing facilities, pre-engineered metal building, shopping center's, church's, restaurants and all types of residential construction/renovation from the thousands of dollars to multi-million dollar homes.

Craig Belitz Construction is a builder for Gulf State pre-engineered metal buildings and a dealer Atas International metal roofing. The Company was the ATAS 2000 recipient of the 1st place award for the Commercial Project Of The Year Award for the Cherokee Grill in Gatlinburg, Tennessee.

The Company is proud of our record of skilled employee retention. We are a drug-free Equal Opportunity Employer blessed with a veteran work force with many having over 25 years experience. This expert proficiency translates into consistent quality from project to project. It also allows our Company to self perform a major portion of all aspects of construction resulting in substantial cost savings to the client. This work can include layout, excavation, concrete, masonry, carpentry, (form, frame or trim,) steel erection, all forms of roofing including the common 3-tab shingles, slate, cedar shake, metal (including copper), to all forms of commercial built-up, modified, vinyl and EMPD (rubber.) A visit of our web site will show examples of each.

The Company's reputation for quality at a reasonable price is evidenced by the fact that 95% of our business is from repeat and referral customers.

Please enjoy your visit to our web site. We welcome any questions and request for references will gladly be provided.

Give us a call at 865-212-5588, or contact us via email to see what we can do for you!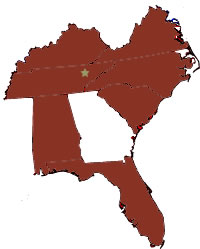 | | |
| --- | --- |
| | states serviced by Belitz Construction |